Zambia 2022 Diary
Part 1: Lusaka
Amy and Fran's diary documenting their visit to Zambia in June 2022.
Day 1: Tuesday/Wednesday
After leaving Dublin at 3pm on Tuesday, we arrived in Doha at 2am on Wednesday morning where met Gareth and Paul from Drop Inn Ireland/​Hope Mission.
We flew to Lusaka (the capital of Zambia) arriving there around 8am. We were collected from the airport by Pastor Elijah (who oversees Hope Mission in Zambia), Deborah (the secretary) and our driver Bridal. They brought us to our accommodation to check in and have some time to freshen up before heading out to visit the girls' home that Hope Mission runs. The girls' home was only opened a few months ago.

A home for girls
Elijah and his team from Hope Mission had been working with children and young people living on the streets of Lusaka. As they worked, they saw a need for accommodation. Some of the girls were especially vulnerable: particularly those who were pregnant or already had babies. Elijah gave part of his home, which provided accommodation for up to 8 girls and a house mother to live in.
This space was also used to provide food for many other children on a weekly and sometimes daily basis.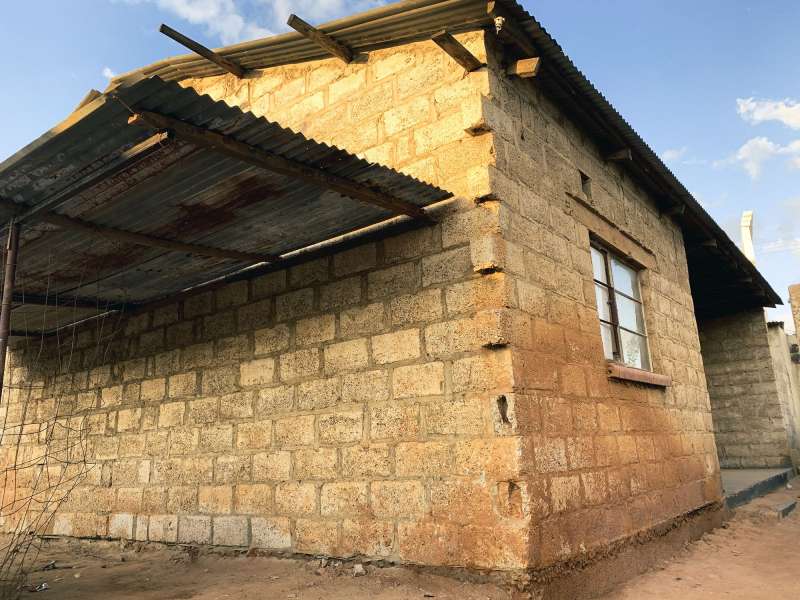 When we visited the the home there was around 25 kids and five volunteers. We were welcomed with songs in English and Bemba. As we settled in, we shared a couple of stories about God and made bracelets with them. We also taught them a new English song which they learned really quickly.
Church in the township
We then visited a small church within the township. Pastor Chama also works as a builder and had worked with Gareth on other projects as well as being in the process of building his own church.
The church currently has partial walls and a roof that was part-tin and part-tarpaulin. When the prayers started, local people could hear and the church soon filled up.
We all received a warm welcome and we both shared a short testimony. Paul preached.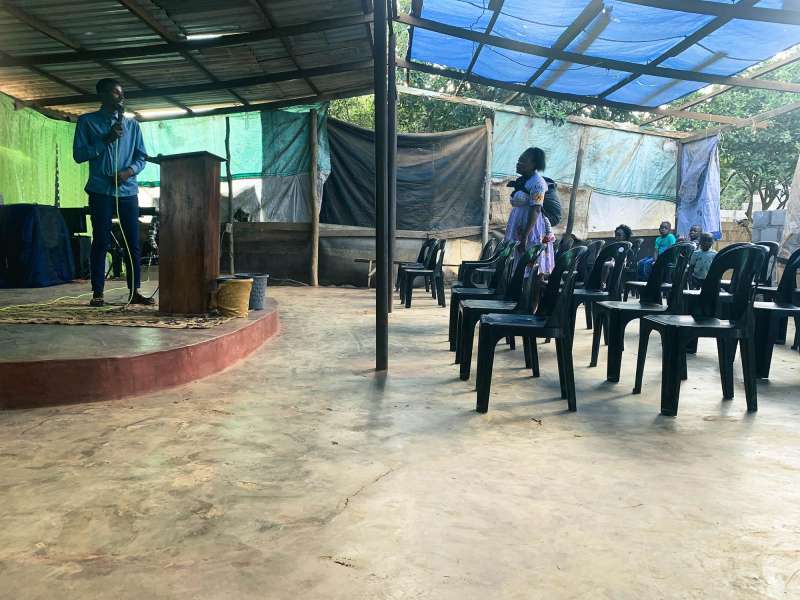 Fran's highlight

"Spending time with the girls and seeing how well they looked out for each other. And seeing the compassion of the house mother and the volunteers."
Amy's highlight
"I also really loved spending time in the girls home. They really welcomed us with open arms. And getting to meet the volunteers who give their time daily to invest in the lives of the girls was really special."
Day 2: Thursday
Under the Bridge
The next day, we had the opportunity to be a part of ​"Under the Bridge", which is a ministry Pastor Elijah is part of. This ministry works with children and young people living on the streets of Lusaka. It is lead by a lady called Pastor Dorcas and a team of volunteers — some of whom had previously spent time living on the streets themselves.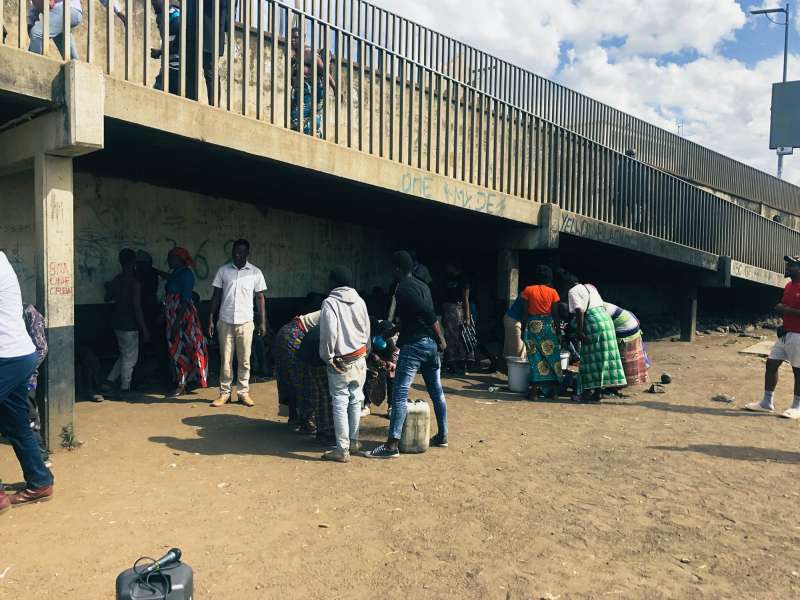 Together, we sang songs with the young people and a few of the young people sang for us. One of then even performed a rap!
We shared some stories while the volunteers prepared food to give out. The staple food of Zambia is nshima1 which is a very thick porridge made from finely ground maise. This is served with a relish, made from cooked vegetables, spices, and meat in a delicious sauce. The food was given out to the children and young people, who were very good at making sure everyone got their share! We'd brought along a few lollipops, so the kids got those too.

Essential supplies
We left the bridge and headed back to the girls home. On the way, we stopped at a supermarket. Thanks to our generous donors, we were able to buy around a months supplies of essentials such as the ground maize, pasta, rice and toiletries to take with us.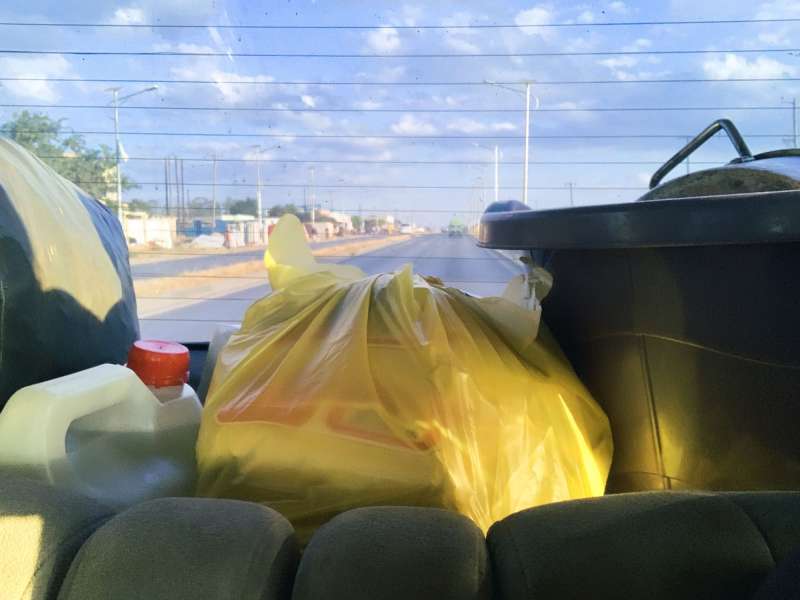 We were also able to get a week's worth of supplies of food such as chicken, vegetables and bread. It was such a privilege to take these supplies to girls home and Pastor Elijah. The house mother and the volunteers were so thrilled to receive them. We spent a short time with them before it was time to say goodbye.
From the girls' home we were able to walk to a property that was for sale. As a larger house, the hope is that it would be a suitable placement for the girls home, allowing them to take in more girls and to still comply with the legal requirements. The good news is the building has now been purchased, and it should be ready for the girls to move into it within a month.

Street kids
From there, we walked the short distance to the church where we were able to see the new shower block and toilets that had been built for the kids from the street to use. Every Sunday they come early to church, so they can get showered and changed just beforehand. The facilities also allow them to wash their clothes as well as being served a cooked meal after the service.
It's not quite finished yet, but already it's starting to make a huge difference towards giving these children back their dignity and worth.
We returned to our accommodation for an early night to prepare for our journey to Kabwe the next morning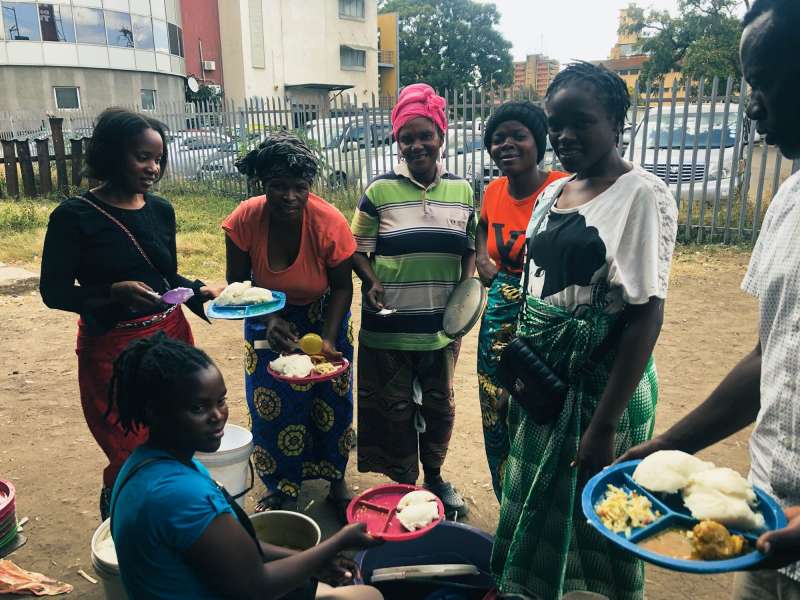 Fran's highlight

"Using the money we had fundraised to bless the girls home with some much needed essentials, and seeing how much this meant to Pastor Elijah, the House mother and the volunteers."
Amy's highlight
"It was really exciting to get to visit the potential new property for the girls' home. Spending time in the home the day before we could see and hear a bit about the limitations they have because of space. This new building has huge potential so it was really exciting knowing difference having a space like that would make in the girls lives as well giving space to bring in more girls. (They have since purchased the property and the girls moved in at the start of June)"

---
1nshima is served in portions (that look a bit like mashed potato but thicker) and eaten with the hands. To eat it, you break off a piece, just smaller than a golf ball, and kneed it in the palm of your hand until it is easy to work with and becomes a ball. You make an indentation in the ball with your thumb to make a sort of spoon, then scoop up whatever relish is served along with it (relish can be anything from a tomato and onion based sauce to vegetables to meats). You then eat the nshima and relish together.
Back to the top