Celebrating 20 years of Solace Ministries
Visit to Rwanda, September 2015
This article is over a year old
It was an honour for Drop Inn to be in Rwanda to celebrate with Solace Ministries on their 20th Anniversary.
We were so humbled as a team to see how many widows and orphans have been supported during these years and how their lives have been transformed from utter hopelessness and despair to lives that have purpose and meaning.
Founded by survivors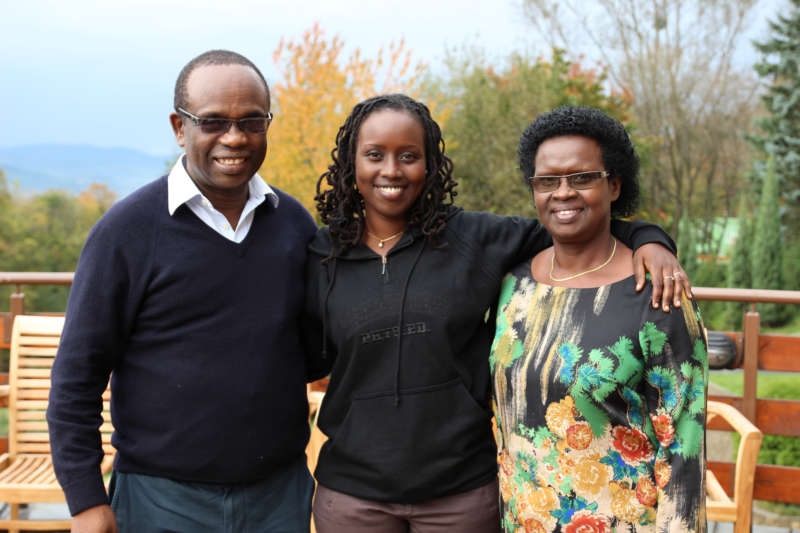 Drop Inn Ministries has been working alongside Solace Ministries since 2004 and we have been able to financially support 4 centres where widows can come for counselling and help in skills to begin to be self sufficient in supporting themselves. We also, through our Drop Inn Isle of Man have been able to build a clinic primarily for widows who have been diagnosed as having HIV as a result of rape during the genocide.

Since 1995, Jean Gakwandi survivor of the genocide which claimed 10,000 lives per day over 100 days, has been comforting and bringing hope to these widows and orphans. Every time we visit Rwanda we meet more of these people and hear their stories.
Left for dead
One young man we met on this visit told us that all his family had been killed and he, himself, was left for dead with serious wounds from the machete that had almost severed his head. We could still see the large scar around his neck. While he was relaying his story, he told us he was sorry for making us cry! He told us that when he came to Solace he was comforted and found a new family. Now he works for Solace and is getting married in October!

This story can be repeated countless times. Solace Ministries is organised into over 60 communities throughout Rwanda ranging in size from 50 members to several hundred and their goal is to be an alternative family for survivors, many of whom have been left totally alone.
Progress
While there we were able to visit the new Solace Centre that has been built since our last visit and to see the progress that has been made to the new hospital (pictured at the top of the page) which will be an extension to the Clinic we have already built. It is a privilege for us to be able to support such a wonderful ministry and were so happy to join with them on this special occasion.
Please continue to support Drop Inn as we help fund the building of these centres and the programs held by Solace Ministries. It is one thing to survive an atrocity such as the one in Rwanda, but we want to do more than help in their recovery. We're keen on helping these people grow into strong independent men and women.